Holistic Acne Consultation
 (60 Minutes, $55)
Jessica Gremley, Medical Esthetician, and Certified Acne Specialist, has been working with acneic skin since 2002. Specifically, she has helped her clients' clear all different kinds of acne ranging from classic teenage acne, the 35-year-old female that never had a breakout before and now has acne on the chin and jawline, breakouts triggered by hormone imbalances,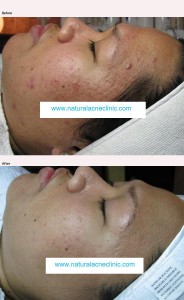 digestive/nutrition related acne and bacterial acne.
Jessica's holistic approach allows your body to naturally stabilize hormonal imbalances, balance your diet, correct inefficient toxin removal and reduce inflammation. This consultation/educational process will include the following:
For new clients, during the consultation, we will do the following:
Determine your acne types (inflamed, non-flamed or combination) and skin tolerance.
Evaluate the hormones, digestive system and stress levels for imbalances that may be triggering acne.
Recommend herbs and supplements to help re-balance the body from the inside out.
Recommend the home care products and in-office treatments that you will need to get clear.
Educate you on the lifestyle habits and choices that aggravate acne- food, birth control pills (they do not always help acne), medications, prescriptions, and stress. Please be prepared to make some lifestyle changes. If you do, you will see results.
ALCAT Food Sensitivity Testing available upon request or recommended if needed.
Provide you with a packet of information on everything we went over and your customized skin clearing plan.
After your consultation, you will be given a full skin care regimen which consists of a 3-5 step process morning and evening.
REAL STORIES, REAL PEOPLE
"I was searching for something to help my skin. I turned 30 and suffered from hormonal acne on cheek and jawline. The face reality products are incredible. I had a great coach who walked me through the process and was encouraging the whole time. I also suffered from stomach issues for several years, and in addition to my face looking so much better 4 months later, my stomach is healing and its so wonderful! I strongly recommend this program to anyone suffering with acne. It was a life saver!"
"Jessi and her team of acne experts did amazing things for my skin! I came to them after multiple dermatologist visits and a year of no results using prescription grade acne medicine. In just a few months and a lot of commitment from her team and personal accountability, my face is clear! They helped me learn what my acne triggers could be and things to avoid to keep my acne away. They also helped me eliminate products (makeup, detergent, etc) that could be clogging my pores and causing my acne prone skin to flare up.
The number 1 thing I love about the Natural Skincare clinic is their commitment to get your skin clear and keep it clear through client education and great products. I would recommend to anyone who is struggling with acne."